Kitesurfing Holidays In Portugal
Kitesurfing holidays in Portugal offer all the diversity you could wish for. From fabulous sightseeing to stacks of fun activities, there is something to suit everyone on this sun dappled slice of the Iberian Peninsular. Beautiful island vacations and sun-drenched beach breaks; you'll find everything you desire on Portugal holidays. With a long north-south coastline and vast beaches, Portugal is one of the premier kitesurfing destinations; it has more than 800km of Atlantic coast with some of the best kite spots in Europe, and its weather is renowned for being temperate year-round; thatís why it attracts so many kite surfers and world-class championships. Great scenery and excellent conditions make kitesurfing holidays in Portugal really special, it has large beaches and sea lagoons all along the coast. From shallow waters to exciting downwind areas, here you can find great conditions all year round. Portugal has a very mild Mediterranean climate the entire year, so thereís no need to wait for summer to visit it and enjoy the best kitesurf and outdoor activities all year round!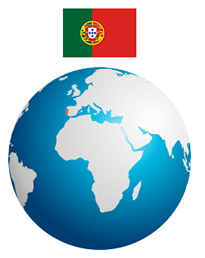 Weather
Portugal has some differences in weather between the north and south and between the coastline and places more inland. In general though, summers are warm to hot. Winters average between 15 °C and 20 °C during the day and between 5 °C to 10 °C at night, again from north to south. Nights average around zero though on the higher plateau inland, where temperatures can drop below -10 degrees and snow is certainly not uncommon during the months of December to February.
The Entry Requirement
You will need to ensure you have correct documentation for your holiday including a full passport valid for the minimum period beyond your planned return date. You may also require a visa.
Citizens of the European Union, Bulgaria, Cyprus, Iceland, Liechtenstein, Norway, Romania and Switzerland need only an identity card to enter Portugal.
In addition to their identity card, minors must also present
authorisation
from their parents to travel.
Money
Portugal is one of 17 European Union countries whose common official currency is the euro. 1 euro is divided into 100 cents. The coins come in denominations of 1, 2, 5, 10, 20 and 50 cents, and 1 and 2
euros
.
The notes are differentiated by their size and
colour
and come in denominations of 5, 10, 20, 50, 100, 200 and 500
euros
.
You can exchange money at banks, which are open from 8.30 a.m. to 3 p.m. five working days a week; at
bureaux
de change; and at automatic currency exchange machines.
Travel Health For Portugal
Do ask your travel health expert (e.g. GP, practice nurse or travel clinic) to provide you with up to date information and vaccines to ensure your travels are safe and enjoyable.