KIRSTY JONES EXPERIENCE - KITE, SURF & YOGA
Kirsty's courses are aimed at kitesurfers who want to progress and step up to the next level with their riding, incorporating body and mind awareness and conditioning, and unique, priceless experiences. Using her many years of knowledge in the ocean, coaching experience in watersports and yoga, and passion to help others in sport and life, Kirsty has designed these highly fulfilling and rewarding courses for some special dates throughout the year.
Location & Guide
Dakhla, Morocco
Kirsty Jones,
Pro Kitesurfer
Price Details
5 Day(s), Pro Clinic
No Meals
,
Max Group : 6
Trip : 16 Mar - 20 Mar
£564
Months Operating
Jan
Feb
May
Apr
May
Jun
Jul
Aug
Sep
Oct
Nov
Dec
/ssp_director/albums/album-1803/lg/Kirsty_Jones_2.jpg
/ssp_director/albums/album-1803/lg/Kirsty_Jones_4.jpg
/ssp_director/albums/album-1803/lg/Kirsty_Jones_3.jpg
/ssp_director/albums/album-1803/lg/Kirsty_Jones_6.jpg
/ssp_director/albums/album-1803/lg/Kirsty_Jones_1.jpg
/ssp_director/albums/album-1803/lg/Kirsty_Jones_5.jpg
The Experience
The tailored, expert Kitesurf coaching, integrates Kirsty's own training, techniques, and daily routine that enables her to reach her goals, and remain calm and confident through life's storm on and off the water. Integrating highly beneficial daily yoga sessions, kite, surf/SUP adventures, trips, downwinders and Pro Kitesurf coaching at the best kitesurf locations for your progression, pleasure and pursuit!
The clinic includes 5 days of kitesurf training, technique, coaching, riding, guidance, & daily tailored yoga sessions. (approx 3 hours of kitesurf training, guidance, & coaching per day - As a group, and with individual attention & personalised coaching). Kitesurf technique talks on safety, launching & landing, equipment advice & tuning for all levels, stance, manoeuvres, transitions, tricks & technique for twin tip & strapless, secrets & safety of jumping and riding in waves & downwinders are all included. There will also be a ´Yoga for Riders´ Daily 1-hour session which is suitable for all.
Accommodation
4* La Sarga Camp

Dakhla

The camp is located at the end of Dakhla peninsula, where the lagoon meets the Atlantic. The new project, part of the Océan Vagabond collection, features the eco-friendly signature of the group. Entirely made of wood, the hotel offers all the modern comforts in a green, eco-friendly way.

Waves at Lassarga are phenomenal, rolling nicely to the right from a pointbreak offering over 400m long surf rides along a 1km white sand beach. The spot is fantastic for advanced wave riders, as wind is predominantly offshore in this spot. For beginners, around the corner of the peninsula, where the fishermen village is, is a white sand shallow water beach with side-on wind.

Show Details

4* Ocean Vagabond

Dakhla

Ocean Vagabond in Dakhla is located at the northern end of a 40 km lagoon on the Dakhla peninsula; Dakhla city and the airport are about 28 km away. Depending on the tide the bungalows are located right on the water's edge.

Show Details
All dates for these trips
02 Jun 2019 - 06 Jun 2019
Kirsty Jones Experience - Kite, Surf & Yoga
5 Day(s)
£564
24 Oct 2019 - 28 Oct 2019
Kirsty Jones Experience - Kite, Surf & Yoga
5 Day(s)
£564
07 Nov 2019 - 11 Nov 2019
Kirsty Jones Experience - Kite, Surf & Yoga
5 Day(s)
£564
Price Includes
5 days of training / lessons & excursions with Kirsty (approx 2-3 hours of training / coaching / guiding per day)
Airport Tranfers
1 x Kitesurf 4x4 excursion to the White Dune, Speed Spot or Dream Spot, with photo and video shooting
1 x Surf trip with lesson or coaching, guidance & advice
1 x Kitesurf Wave Trip (Or if conditions not suitable, alternative kitesurf or surf excursion)
Personalized kitesurf videoing with feedback coaching
Price Excludes
Flights - please ask for flight inclusive package
Down winders charged locally
Full equipment rental
Surf & SUP rental charged locally per surf trip
Accommodation - please ask for an inclusive price
Itinerary Details
5 days of training/lessons & excursions with Kirsty (approx 2-3 hours of training/coaching/guiding per day)

– Kitesurf Technique Talks
– Daily, tailored yoga sessions suitable for all. Available in the mornings or evenings depending on training and riding times.
– Kite/Surf/SUP excursions by 4x4 to the best spots ~ Trip to White dune or secret spot to ride, train and video shoot. 1 trip to waves for kiting or/and surfing.
– Personalized videoing with feedback coaching at Beach Hut. (Personal HD video clips to keep)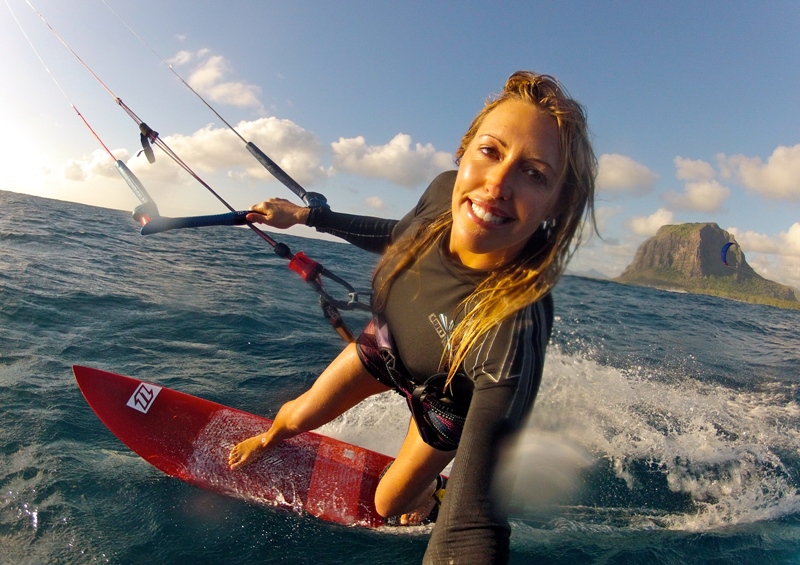 Your Guide:
Kirsty Jones: Pro Kitesurfer
Kirsty is a x3 Kitesurf World Wave Champion and KPWT World Cup Wave Masters Champion. Growing up in West Wales Kirsty has been kitesurfing since the beginning, in 2002 she became the first person to kitesurf from Ireland to Wales setting a precedent for large sea crossings that have been completed since. Kirsty is a fully qualified and highly experienced, kitesurf, windsurf, surf and yoga coach and in-between her commitments and adventures as a full time professional kitesurfer, Kirsty offers kite, yoga and surf workshops and retreats in her favourite locations worldwide, as well as one-on-one kitesurf coaching and sport specific yoga sessions and programs.