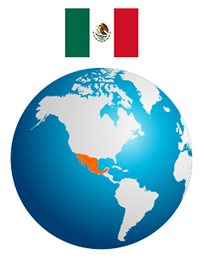 KITESURFING HOLIDAYS IN MEXICO
The North American country of Mexico stretches between an ocean and a gulf, a country rich in history, tradition, culture, and natural beauty. Marveling at a 1300-year-old Maya palace at Palenque as parrots screech and howler monkeys growl in the sweaty emerald jungle around you. This is Mexico. Sliding from a palm-fringed sandy beach into the warm, turquoise waters of the Pacific at Punta San Carlos. This is Mexico. Indulge in a beautiful 5 star beach resort, set on the golden beaches of Playa Del Carmen. This too is Mexico.
A Kitesurfing Holiday to Mexico can be as adventurous or relaxing as you want it to be. There is simple so much on offer from jungle trekking, mountain biking & rafting, cultural tours of the amazing Mayan ruins to cave diving! So whether you are a single adventure traveler, family to couple a kitesurf tour of Mexico can be tailored to fit.
Planet suggested tour itineraries
Mexico And Mayan Riviera

No more tours

New tours

may come...