KITESURF MAURITIUS
Did You Know?
The country of Mauritius includes the islands of Mauritius and Rodrigues as well as a number of outer islands. Mauritius has a rich history linked to various cultures including the French, Portuguese, Dutch, Arabs and British and the island's capital city of Port Louis was established in 1736 by the French East India Company. Mauritius is the only African country to have a Hindu majority.
Kitesurfing Holidays In Mauritius
The Islands of Mauritius and Rodriquez (also part of Mauritius) are set in the warm waters of the Indian Ocean, just off the coast of southeast Africa. Planet Kitesurf can arrange either direct flights to Mauritius from London or Paris (in Europe) or indirect flights via Dubai or Johannesburg if you are considering combining your stay with South Africa or Dubai.
If you asked any well-travelled kitesurfer where is the best kitesurf destination in the world, then Mauritius would be their answer! Mauritius offers impeccable kitesurfing conditions largely due to the combination of incredibly reliable wind, perfect flat water, kitesurf lagoons with world class waves at the same spot and stunning luxury hotels at affordable prices. A kitesurf holiday to Mauritius is one of the best value luxury kitesurf holidays available. The reason being that the windy season (May to November) coincides with the low season hotel prices as the bigger tourist market want to avoid the wind. Therefore, as kitesurfers we get the best of both worlds; amazing wind and the cheapest prices!
When And Where To Go Kitesurfing In Mauritius
At Planet Kitesurf we know exactly when and where to travel in Mauritius to find the best kitesurfing. We have experts travel to Mauritius every summer to make sure we have the most up-to-date hotel information and ensure that we only work with the very best Mauritius kitesurf schools and resorts. It is of the utmost importance to us at Planet Kitesurf that we select the correct location and hotel for your kitesurf level, budget and resort aspirations.

It is always best to speak directly with us to discuss your holiday plans. Our website is to be used as a point of reference but there is no substitute for speaking directly to an expert kitesurf travel advisor. However, as a rough guide we would summarise as follows:

The best time to visit Mauritius for a kitesurfing holiday is May through to December. However, the most reliable months are August through to October, but other months are very consistent too.

Le Morne: The south-west have the best conditions. If you want an exquisite luxury hotel with access to the premier kitesurf & windsurf location with flat water and waves then St Regis in Le Morne is outstanding.
Bel Ombre: If you have a smaller budget then there are some brilliant value good quality hotels in Bel Ombre, just a 15 minute drive from the kitesurf resort Le Morne. The kiting here is marginally better than Le Morne for flat water conditions on the lagoon. There are also some nice waves here too, however, we still think One Eye in Le Morne is the best wave - for very advanced riders only!
Rodriquez Island: If you want to get away from it all and have 'as far as the eye can see' flat water then Rodriquez Island is amazing but a lot quieter and more spread out than the mainland. We have some stunning properties in and around the southwest area if you don't mind being away from the beach (we will include car hire). The most stunning and very highly recommended of these properties is Lazaz Chamarel, a truly amazing barefoot luxury property.

If you have the time then we can easily arrange a tailor made tour to encompass one or many of these areas. We can combine the best Mauritius kitesurf location with other areas such as Reunion Island (great for a few days trekking and adventure), stunning wellness and spa retreats in the north where the weather is warmer or even combine with another country such as South Africa or Dubai.
Le Morne, Mauritius
Le Morne, Mauritius
Belle Mare, Mauritius
Rodrigues Island, Mauritius
Anse La Raie, Mauritius
Bel Ombre, Mauritius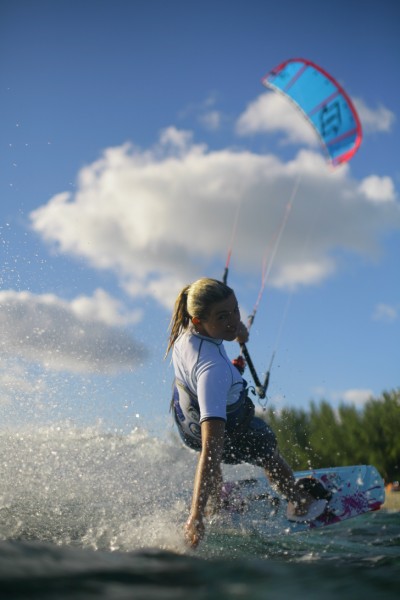 Beginners

Advanced

Waves

Singles

Eating Out

Nightlife

Families

Un-spoilt

Culture

Luxury Hotel

Spa

Multi-sport