MOROCCO KITESURFING HOLIDAYS
Kitesurfing Holidays In Morocco
Morocco borders the Atlantic with beaches as far as the eye can see and has some world-class kitesurfing spots. Depending on the region you can kitesurf Morocco all year around. Combining a Morocco Kitesurf holiday some touring is a great way to experience this rich, colourful and unique culture.
During your kitesurfing holiday in Morocco you will be able to discover the wide range of astounding landscapes and cities that are located in this country; the imperial city of Marrakech, situated at the foot of the Atlas Mountains, the desert town of Merzouga that lies between the impressive Erg Chebbi sand dunes and the Dades Valley that offers some of Morocco's most spectacular scenery.
Morocco boasts some of the most reliable wind conditions in the world and only a short flight from the UK or Europe makes it a very popular kitesurfing destination.
Did You Know?
Morocco is located only 13 kilometres from Europe across the Strait of Gibraltar. Ethnically, Moroccans are predominately of Berber (North African indigenous) and Arabic decent. Oukaïmeden, in Morocco's High Atlas Mountains, is the highest ski resort in Africa.
Weather General Overview For Morocco
Morocco's interior is at its best in spring (March to May), when the country is lush and green, followed by autumn (September to November), when the heat of summer has eased. At other times, do not underestimate the heat in summer and the cold in the winter, particularly in the High Atlas Mountains, where snowcapped peaks persist from November to July.
The resort Essaouira is best from April to October with air temperatures between 25-30 degrees cooled by the constant Atlantic breeze.
The region of Dakhla can be visited all year around but the summer temperatures can be extreme, so the best time to travel here is from September to May.
Money
The official currency is the Moroccan Dirham. Moroccan dirhams can only be obtained in Morocco. The most convenient way to obtain dirhams is through an ATM, where official rates automatically apply, but daily withdrawal limits can seem low for customers paying cash for rugs in the souks. Guichets automatiques (ATMs) are now a common sight across Morocco and many accept Visa, MasterCard, Electron, Cirrus, Maestro and InterBank systems. Major credit cards are widely accepted in the main tourist centres, although their use often attracts a surcharge of around 5% from Moroccan businesses. American Express, Visa and Thomas Cook travellers cheques are widely accepted for exchange by banks.
Essaouira, Morocco
Essaouira, Morocco
Dakhla, Morocco
Moulay, Morocco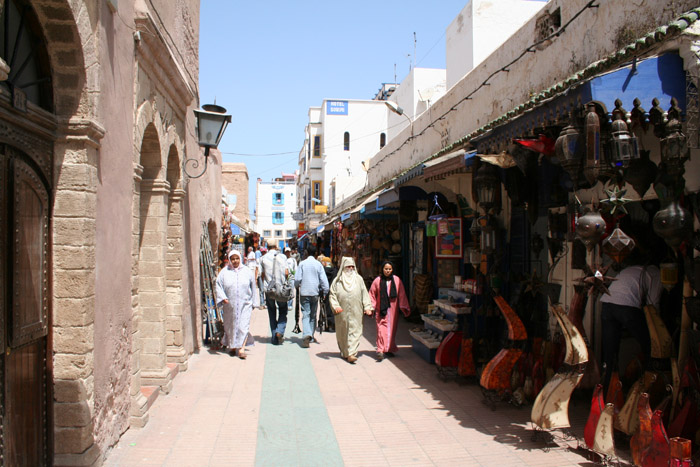 Beginners

Advanced

Waves

Singles

Eating Out

Nightlife

Families

Un-spoilt

Culture

Luxury Hotel

Spa

Multi-sport