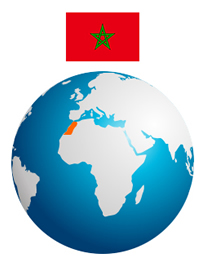 KITESURFING HOLIDAYS IN MOROCCO
Morocco is a coastal country with beaches as far as the eye can see and counts among the model destinations for windsurfers. With year round sun shine itís conveniently only a 3 hour flight from the UK to catch the perfect wave and take in the rich colourful and exciting unique culture. During your kitesurfing holidays in Morocco you will be able to discover the wide range of astounding landscapes and cities that are located in this country: the imperial city of Marrakech, situated at the foot of the Atlas Mountains; the desert town of Merzouga, that lies between the impressive Erg Chebbi sand dunes; the Dades Valley runs that offers some of Morocco's most spectacular sceneryÖ Due to a big range of windy areas itís a perfect destination for all levels of kitesurfers. Year-round warm weather, reliable winds and a well developed sports tourism infrastructure have made Morocco a popular kitesurfing holidays destination.
Planet suggested tour itineraries
9 Day Inland Morocco + 7nts Essaouira

14nt Tour Of Morocco

3nts Marrakech, 2nts Atlas Moutains + 5 Nts Kitesurfing In Dakhla

3nts Marrakech, 2nts Atlas Mountains & 9nts Essaouira

No more tours

New tours

may come...
MONEY
The official currency is the Moroccan Dirham. Moroccan Dirhams can only be obtained in Morocco. The most convenient way to obtain Dirhams is through an ATM, where official rates automatically apply, but daily withdrawal limits can seem low for customers paying cash for rugs in the souks. Guichets automatiques (ATMs) are now a common sight across Morocco and many accept Visa, MasterCard, Electron, Cirrus, Maestro and InterBank systems. Major credit cards are widely accepted in the main tourist centres, although their use often attracts a surcharge of around 5% from Moroccan businesses. American Express, Visa and Thomas Cook travellers cheques are widely accepted for exchange by banks.
WEATHER
Morocco is at its best in spring (mid-March to May), when the country is lush and green, followed by autumn (September to November), when the heat of summer has eased. At other times, donít underestimate the extremes of summer heat and winter, particularly in the High Atlas, where snowcapped peaks persist from November to July. If you are travelling in winter, head for the south, although be prepared for bitterly cold nights. The north coast and the Rif Mountains are frequently wet and cloudy in winter and early spring.
RECCOMMENDED VACCINATION
The World Health Organization (WHO) recommends that all travelers, regardless of the region they are travelling in, should be vaccinated against diphtheria, tetanus, measles, mumps, rubella and polio, as well as hepatitis B. While making travel preparations, take the opportunity to ensure that your routine vaccination cover is complete.
THE ENTRY REQUIRMENT
UK / EU passport holders A full 10 year passport valid until at least 6 moths after date of return. No visa required. Other passport holders please check with Moroccan Embassy (020 7581 0719).