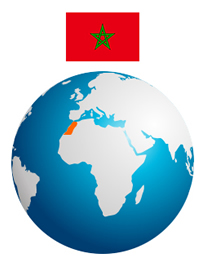 KITESURFING HOLIDAYS IN MOROCCO
Morocco boarders the Atlantic with beaches as far as the eye can see and has some world class kitesurfing spots. Depending on the region you can kitesurf Morocco all year around. Combining a Morocco Kitesurf holiday some touring is a great way to experience this rich colourful and unique culture.
During your kitesurfing holidays in Morocco you will be able to discover the wide range of astounding landscapes and cities that are located in this country: the imperial city of Marrakech, situated at the foot of the Atlas Mountains; the desert town of Merzouga, that lies between the impressive Erg Chebbi sand dunes; the Dades Valley runs that offers some of Morocco's most spectacular scenery…
Morocco boosts some of the most reliable wind conditions in the world. A Morocco kiteboarding holiday is suitable for holiday makers looking for a very wind reliable destination, within a short flight from Europe for an 'off the beaten track' atmosphere and culturally rich experience.
Planet suggested tour itineraries
Atlas Explorer

3 Nights In Marrakech, 2 Nights In Atlas Moutains And 5 Nights In Dakhla

3 Nights In Marrakech, 2 Nights In Atlas Mountain And 9 Nights In Essaouria

No more tours

New tours

may come...
WEATHER GENERAL OVERVIEW FOR MOROCCO
Morocco's interior is at its best in spring (mid-March to May), when the country is lush and green, followed by autumn (September to November), when the heat of summer has eased. At other times, don't underestimate the extremes of summer heat and winter cold, particularly in the High Atlas, where snowcapped peaks persist from November to July.
The resort Essaouira is best from April to October with air temp. between 25 - 30 cooled by the constant Atlantic breeze.
The region or Dakhla can be visited all year around but the summer temperatures can be extreme so we advice the best time to travel from Sept to May.