/ssp_director/albums/album-2237/lg/cocoon-kitesurf.jpg
/ssp_director/albums/album-2237/lg/cocoon-kitesurf1.jpg
/ssp_director/albums/album-2237/lg/cocoon-kitsurf2.jpg
/ssp_director/albums/album-2237/lg/cocoon-maldives-kitesurf1.jpg
/ssp_director/albums/album-2237/lg/cocoon-maldives-kitesurf2.jpg
/ssp_director/albums/album-2237/lg/cocoon-maldives-kitesurf3.jpg
/ssp_director/albums/album-2237/lg/cocoon-maldives-kitesurf5.jpg
/ssp_director/albums/album-2237/lg/cocoon-maldives-kitesurf7.jpg
The Cocoon Kitesurf Centre is a fully equipped watersports centre operating at the Cocoon Maldives Resort. The centre offers a wide range of activities suitable for beginners, intermediate, experts and families alike. Aside from kitesurfing, additional activities include eco sports, motorised watersports, adventures, snorkelling and scuba diving, This centre has something adventurous for everyone.
Kitesurfing is one of the fastest growing water sports in the world. It combines power kite flying with wakeboarding to create a spectacularly unique sport.
The professional instructors at this centre are ready to teach everyone what kitesurfing is all about. The pristine lagoons of Maldives with its flat water offer the best conditions for beginners and professionals alike. Glide across the water on a kiteboard similar to a wakeboard or a small surfboard, with or without footstraps or bindings.
Pre Booked Sports Services
Sport centre prices are as a guide, prices can change depending on the season and exchange rates. When pre booking with Planet you normally receive around a 10% discount on direct local prices. More importantly, you MUST pre book any essential sport services at the time of booking to ensure availability. Please be sure to ask us about this during the booking process.
Speak to an Expert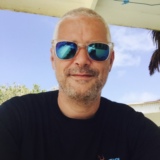 Got a question? Contact our travel experts for a detailed quote to match your holiday requirements. Phone, email, or live chat - or we can even call you back!
0044 (0) 1273 921 001
SEND AN ENQUIRY >