PROGRESSION FOILING CLINIC DAKHLA
Early bird discount: £100 - Only 1 Early Bird Spot Left
This will be Progression Live's third year of heading to Dahkla – it's infamous as one of the top kiting destinations, offering flat water and strong reliable wind. We chose October as we feel its better suited to foiling, with slightly more moderate winds and boy it proved to be right last year when we got 6 out of 6 days on the water. Dakhla's isolated location and flat water lagoon mean it's the ultimate spot to focus 100% on improving your foiling this year.
If you have made your first steps into kite foiling, or want to improve and perfect your kite foiling skills, this trip is for you. You could not wish for better instruction, in a more perfect location! The trip is hosted by 2 of the world very best kite foiling instructors, Rob Classe (owner and founder of the well know Progression kitesurf instructional video series) and Danny (RRD team riders and professional coach).
/ssp_director/albums/album-2292/lg/kitesurfing-foil-dakhla.jpg
/ssp_director/albums/album-2292/lg/kitefoiling_8.jpg
/ssp_director/albums/album-2292/lg/dakhla-kitefoil-coach.jpg
/ssp_director/albums/album-2292/lg/dakhla-kitefoil.jpg
/ssp_director/albums/album-2292/lg/dakhla-kitesurfing-foil.jpg
/ssp_director/albums/album-2292/lg/dakhla-kitesurf-foil.jpg
/ssp_director/albums/album-2292/lg/dakhla-sunset.jpg
/ssp_director/albums/album-2292/lg/foil-dakhla.jpg
/ssp_director/albums/album-2292/lg/kitefoil-dakhla.jpg
/ssp_director/albums/album-2292/lg/kitesurf-dakhla.jpg
/ssp_director/albums/album-2292/lg/kitesurf-foil-dakhla.jpg
/ssp_director/albums/album-2292/lg/kitesurf-foiling-dakhla.jpg
/ssp_director/albums/album-2292/lg/kitesurfing-dakhla.jpg
Months Operating
Jan
Feb
Mar
Apr
May
Jun
Jul
Aug
Sep
Oct
Nov
Dec
Accommodation
4* Dakhla Club

Dakhla

Dakhla Club is a kitesurfing paradise - a resort that is the ideal destination for a change of scene and rare moments of adventure. An ambitious complex, perfectly integrated into the surrounding natural environment.

The hotel is located in the North of Dakhla lagoon, 100 metres from the shore, between the ocean and the desert. Relax and enjoy breathtaking experiences in South Morocco. Dakhla Club offers kitesurfers and their families top quality hotel accommodation and facilities.

The hotel features a kitesurf centre on site, while windsurfers will have to walk 15 minutes down the beach to reach the nearest centre.

Show Details
Dakhla Club (KBC) is a new hotel and watersports centre which you will be based at for this year's Morocco trip. Located right on the waterfront you'll be able to see the first signs of breeze allowing you to maximise your time on the water. The hotel and centre are newly built, complete with a swimming pool and a massage room to cure all the aches and pains from many hours of riding. There's plenty of space for land coaching sessions on the front deck, a core part of your Progression Live camp. And with this being full board, the excellent restaurant ensures you have nothing to worry about other than kite foiling, kite foiling and more kite foiling.
For those of you who haven't heard about Dakhla's kiting before, it's world-class, mainly renowned for its flat waters and the consistency of wind that it gets. The prevailing wind comes from the North, getting pulled in as the desert heats up. Mornings are lighter, getting you started with some big kite foiling, and then the afternoons can pick up to 20-25 knots, perfect for learning on smaller kites which offer some advantages for learning certain techniques. The lagoon is a very safe place to kite with the added security of the centre's rescue boats to assist whenever needed.

This clinic is best suited to kitesurfers who already own your own hydrofoil and have already had a few sessions and, at minimum, are able to waterstart and riding along off the foil. Foilers who are up and riding comfortably on the foil but want to improve technique and learn gybes and tacks are also welcome. Whatever your level do get in touch and we can discuss if this particular clinic will be best for you.
Check out our Frequently Asked Questions page for further answers to common questions like What kit you should bring and can you bring your partner, along with many others.

Price Includes
Airport transfers
7 nights full board bungalow accommodation based on twin share
6 day Progression kite foiling clinic
Shared locker for kit storage
Access to a variety of F-One and Airush foils and surfboards
Unique Progression Live camp t-shirt
Price Excludes
International and domestic flights, luggage or kite bag (contact Planet for an inclusive price)
Single supplement
Deluxe Bungalow upgrade
Drinks
Equipment rental - either take your own or enquire about local rental
Itinerary Details
October is a great time for a foiling clinic as the winds are not quite so strong, but consistently 12 knots and above, and a fewer people on the water. It is a big lagoon so there is always plenty of space to explore! One of the advantages of being based at the new Dakhla Club centre is that at high tide you have easier access to deeper water.
Progression Live prides itself on the quality of coaching on offer. Every student learns differently, some needing just a few pointers throughout the day, where others a more in-depth guided process. The coaches will tailor your experience to best suit your needs and ensure you get the most out of the week. Everyone is given a daily objective in the mornings briefing, and you are expected to go off and give this a good go. The coaches will be on the beach and water observing, giving you pointers and one is always available for you to come and ask questions. Progression's aim is help you reach your own potential, pushing hard when you need it but ensuring you have fun, ending every day with a smile on your face and new challenges accomplished, whether they are big or small. And it's not just about what you learn on the camp, you'll leave with a personalised Progression Plan guiding you through the next stages of your foiling progression.
The clinic will involve 6 days of coaching with a group of 6-8 kiters. There will be two coaches who will also offer video analysis, BBtalkin headsets for one-on-one session and Progression Live demos.
The normal daily structure is:
Breakfast around 9 am
Land coaching at KBC around 10 am, this is where you'll get your daily learning objective and going over any footage that will help you master your next foiling manoeuvre.
Assessing the conditions day-to-day, you'll normally meet down the beach between 11-12pm for some stretching and a warm up, ready to make the most of the building light breeze so be sure to bring your big and small kites.
A quick lunch in the hotel around 2 pm, before changing down a size, ready for a long afternoon on the water.
Ride with one coach on the water going around between all students and pointing out where you're going right and wrong. The other coach will be on the beach ready to offer support with kites, foils and questions as you try new techniques.
The coaches will also film and take photographs throughout the week, which then becomes an essential part of the morning briefing sessions. All of this ensures you'll make heaps of Progression in your week.
All capped off with a sundowner on the KBC deck followed by dinner at the restaurant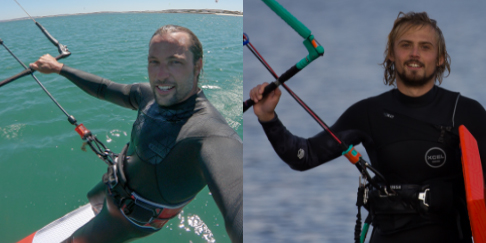 Your Guide:
Danny Morrice and Rob Claisse : Kitefoiling Masters
From competing as a teen to travelling the world with the sport, Danny has over 12 years experience with kitesurfing and has grown up living and breathing it. Now one of the most competent free ride foilers in the UK, Danny is passionate about coaching and helping people gain access into this new area of the sport. The other member of this formidable duo, Rob has always been involved in watersports, a past world champion windsurfer, 17 years experience as a kitesurfer and for last 13 years helping over 200,000 kiters learn and improve with his Progression series of kitesurfing videos, DVDs and apps. Now his own obsession for kite foiling, has led him to find ways to make foiling accessible to the whole kiting community.