PROGRESSION KITEFOILING CLINIC EGYPT
Progression has a long history with Egypt, filming all their early instructional videos there. This will be their second camp in Soma Bay - a popular spot with kitesurfers, who go there year after year because of the consistent wind, warm water and amazing setup offered by the watersports centre. If you are looking to get your kite foiling up a level so you can continue your progression through the summer, there isn't going to be a better place to start.
Progression Live prides itself on the quality of coaching on offer – deep insight and understanding have always been a key part of Progression's DNA and this is best offered by way of smaller groups, a maximum of 8 with two coaches. This ensures that you get the most out of your foiling experience.
/ssp_director/albums/album-2381/lg/Kitesurf-Centre-Soma-Bay.jpg
/ssp_director/albums/album-2381/lg/Kitesurf-Soma-Bay-Egypt.jpg
/ssp_director/albums/album-2381/lg/Kitesurfing-Soma-Bay-Egypt.jpg
/ssp_director/albums/album-2381/lg/Soma-Bay.jpg
/ssp_director/albums/album-2381/lg/The-Breakers-Soma-Bay-Egypt.jpg
/ssp_director/albums/album-2381/lg/The-Breakers-Soma-Bay.jpg
/ssp_director/albums/album-2381/lg/kite-soma-bay-foil.jpg
/ssp_director/albums/album-2381/lg/soma-bay-foil.jpg
/ssp_director/albums/album-2381/lg/soma-bay-kitefoil.jpg
/ssp_director/albums/album-2381/lg/soma-bay-kitesurf-foil.jpg
/ssp_director/albums/album-2381/lg/soma-bay-kitesurf.jpg
Months Operating
Jan
Feb
Mar
Apr
May
Jun
Jul
Aug
Sep
Oct
Nov
Dec
Accommodation
4* The Breakers Kitesurf And Dive Lodge

Soma Bay

The Breakers Diving & Surfing Lodge first introduced in Egypt the concept of "Watersports lifestyle" hotel. Is situated directly on the waterfront, overlooking the Red Sea and the Soma Bay house reef, and just a short walk from Orca Dive Centre.

The very impressive new Kitesurfing School is around a 20 / 30 minute walk along the beach; this is a perfect location for beginners and improvers! There is a shuttle bus from The Breakers to the Kitesurfing centre that operates twice an hour.

Show Details
Other trips with Danny Morrice and Rob Claisse
04 Jun 2023 - 11 Jun 2023
North Portugal
Progression Kitefoiling Clinic Portugal
7 Day(s)
This clinic is based at The Breakers, a kite and dive specific hotel located right on the waterfront. This newly built hotel offers air-conditioned rooms and with half board dining across a selection of restaurants, giving you the perfect base to so you can focus all your time and energy on your foiling progression.

The watersports centre, where you'll spend most of your time, is a short shuttle bus ride away, offering kit storage, its own restaurant and plenty of space to run morning beach coaching sessions, setting you up for an epic day of foiling. The wind blows cross-offshore, giving you flat water and plenty of deep water foiling perfection. The watersports centre has full rescue cover so you can push yourself knowing, whatever the conditions, you'll always have that back up if you struggle to relaunch your kite.

And its Egypt, so expect bath-like water, blue skies and warm winds. This means you have the option to ride with the freedom of no wetsuit – though a shortie could be worth bring for a little-added protection seeing as with foiling we all know there are gonna be a few splashes and crashes!

This clinic is best suited to kitesurfers who already own your own hydrofoil and have already had a few sessions and, at minimum, are able to waterstart and riding along off the foil. Foilers who are up and riding comfortably on the foil but want to improve technique and learn gybes and tacks are also welcome. Whatever your level do get in touch and we can discuss if this particular clinic will be best for you. Check out our Frequently Asked Questions page for further answers to common questions like What kit you should bring and can you bring your partner, along with many others.

Price Includes
6 days coaching at Soma Bay
Twin share accommodation with half board for 7 nights at The Breakers
Access to a variety of F-One and Airush foils and surfboards to help with learning new techniques
Unique Progression Live camp t-shirt
Locker Fee / Storage and rescue / Beach Services
Hotel transfers (based on 2 sharing)
Price Excludes
Flights, luggage or kite bag (contact us for an inclusive price)
Additional meals and drinks
Seaview room upgrade
Equipment rental - either take your own or enquire about local rental
Itinerary Details
Soma Bay has some of the most consistent wind statistics and it's the morning that is often when the strong winds blow through – the hotel and watersports centre are well prepared for this, ensuring early morning sessions are on offer. For you, this means you can first practice techniques in strong winds, with smaller kites, a great way to master skills without the worry of light wind water relaunching or stalling kites. Then as the winds moderates in the afternoon, foilers will be able to keep on riding, transferring skills over to bigger kites, ensuring you get most out of your time.

Every student learns differently, some needing just a few pointers throughout the day, where others a more in-depth guided process – the coaches will tailor your experience to best suit your needs and ensure you get the most out of the week. Everyone is given a daily objective in the morning's briefing, and then you are expected to go off and give this a good go. The coaches will be on the beach and water observing, giving you pointers and available for you to come and ask questions. Progression's aim is to help you reach your own potential, pushing hard when you need it, but ensuring you have fun, ending every day with a smile on your face and new challenges accomplished, whether they are big or small. And it's not just about what you learn on the camp, you'll leave with a personalised Progression Plan guiding you through the next stages of your foiling progression.

The normal daily schedule assuming the strong morning winds are firing:

Breakfast around 6:30 am with discussions of initial objectives for each rider for the morning session
Shuttle to the beach at 7:30
Quick warm up, kit setup and onto the water by 8-8:30 for a 2-3 hour session
Regroup at the watersports centre for an early lunch and review of the morning's session
As the wind moderates, you'll probably be ready to move up to bigger kites for the afternoon session
There will be one coach on the water going around between all students and pointing out where you're going right and wrong. The other coach will be on the beach ready to offer support with kites, foils and questions you have as you try new techniques.
You will also be filmed and photographed throughout the week, which then becomes an essential part of the land-based briefing sessions. Because of the nature of the early morning wind, these briefings will be slotted in at different parts of the day and evening to make the most of the best wind each day.
All capped off with a sundowner on the watersport centre's deck, before heading back to the hotel for dinner.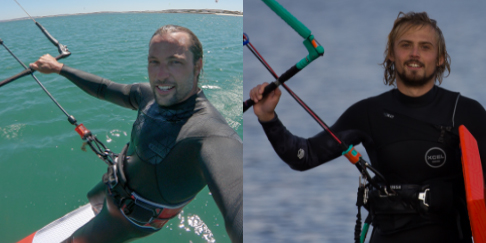 Your Guide:
Danny Morrice and Rob Claisse : Kitefoiling Masters
From competing as a teen to travelling the world with the sport, Danny has over 12 years experience with kitesurfing and has grown up living and breathing it. Now one of the most competent free ride foilers in the UK, Danny is passionate about coaching and helping people gain access into this new area of the sport. The other member of this formidable duo, Rob has always been involved in watersports, a past world champion windsurfer, 17 years experience as a kitesurfer and for last 13 years helping over 200,000 kiters learn and improve with his Progression series of kitesurfing videos, DVDs and apps. Now his own obsession for kite foiling, has led him to find ways to make foiling accessible to the whole kiting community.