PROGRESSION KITEFOILING CLINIC PORTUGAL
Early bird discount: £100 - Only 2 Early Bird Spots Left
This will be Progression's third visit to Viana Do Castelo with Planet! The previous trips were such a great success, with 6 out of 6 days of wind, perfect flat water and heaps of learning. So Progression Live will be returning for three camps in 2019, the first foiling camp will run from the 19th to the 26th of April and second from the 5th to the 12th of September. There will also be a third camp, focussed on waves in June. The spot constantly delivers with the wind, flat water, an amazing hotel and is incredibly convenient, located only 40 minutes drive from Porto airport.
Viana do Castelo plays host to a variety of world-class conditions with the summer months providing flatter seas perfect for some great foiling action. A large seawall protects the river mouth and provides a huge, open ocean, flat section of water. Feel Viana sports centre provides one of the best set-ups for water sports that Portugal has to offer. Located within the sand dunes it is sheltered from the wind yet only a few steps away and you'll be standing on your foil.
Viana do Castelo does not just play host to a fantastic foiling location, being positioned on the west coast with the full force of the Atlantic accessible at the next beach along which is home to some world-class beach breaks, offering some cross kitesurfing conditions. Hotel Feel Viana is located a short 5-minute walk from the kite centre; being built in harmony with its natural surroundings pine forests, it is sure to be the perfect place to relax after a hard day on the water.
/ssp_director/albums/album-2258/lg/FeelViana-Portugal-1.jpg
/ssp_director/albums/album-2258/lg/foil-portugal.jpg
/ssp_director/albums/album-2258/lg/FeelViana-Portugal-12.jpg
/ssp_director/albums/album-2258/lg/FeelViana-Portugal-13.jpg
/ssp_director/albums/album-2258/lg/foiling-portugal-kitesurf.jpg
/ssp_director/albums/album-2258/lg/FeelViana-Portugal-14.jpg
/ssp_director/albums/album-2258/lg/FeelViana-Portugal-15.jpg
/ssp_director/albums/album-2258/lg/FeelViana-Portugal-16.jpg
/ssp_director/albums/album-2258/lg/kitefoiling_2.jpg
/ssp_director/albums/album-2258/lg/kitefoiling_9.jpg
/ssp_director/albums/album-2258/lg/foil-clinic-progression-portugal.jpg
/ssp_director/albums/album-2258/lg/foil-coaching-progression-portugal.jpg
/ssp_director/albums/album-2258/lg/foiling-portugal-kitesurfing.jpg
/ssp_director/albums/album-2258/lg/foiling-portugal.jpg
/ssp_director/albums/album-2258/lg/kitefoil-clinic-progression-portugal.jpg
/ssp_director/albums/album-2258/lg/kitesurf-coaching-progression-portugal.jpg
Months Operating
Jan
Feb
Mar
Apr
May
Jun
Jul
Aug
Sep
Oct
Nov
Dec
Accommodation
4* Hotel Feelviana

North Portugal

The FeelViana Hotel works hard to preserve and respect the exceptional habitat where it is set. This is done by using natural building materials, such as wood, for a harmonious integration in the vast pinewood forest where it is located. The hotel has created a unique space for its guests with its eye catching decor.


Please note for any travellers looking to visit FeelViana in August, two festivals happen in the city this month: Neopop Festival and Romaria Nossa Senhora da Agonía, which may disturb the usual silence and calm of the place but provide a unique and exciting way to experience Portugal.

Show Details
This clinic takes place at a luxurious hotel, complete with an amazing spa and restaurant – the included breakfast will set you up for the day! Nestled behind the sand dunes, an idyllic short 100m walk through the pine forests will find you on the kite beach. The Sports Center has recently been expanded to offer a new beach bar-restaurant, kit storage on the beach and if you need to rent any additional kit they'll have you covered.
This large bay is lucky to be served by a thermal wind system, that consistently delivers cross-shore winds, way higher than the weather charts predict. As long as the forecast says NW, foilers will be on the water at some point that day! The thermal can be really strong and at times in the summer months, with a strong prevailing NW, it'll ramp up to 45knts. That's why these camps are run in April and September so you can still capitalise on a weaker thermal effect. If you do get some really strong wind afternoons, small kite foiling or twintip/surfboard practice can still be hugely beneficial for learning techniques and just downwind there is a really great wave spot. This is definitely one of the spots where you want to bring all your kites so you can make the most of any conditions.

This clinic is best suited to kitesurfers who already own your own hydrofoil and have already had a few sessions and, at minimum, are able to waterstart and riding along off the foil. Foilers who are up and riding comfortably on the foil but want to improve technique and learn gybes and tacks are also welcome. Whatever your level do get in touch and we can discuss if this particular clinic will be best for you. Check out our Frequently Asked Questions page for further answers to common questions like What kit you should bring and can you bring your partner, along with many others.
Of all our camps this is probably the best for anyone who wishes to bring their non-kiting partner. The hotel has lots to offer whilst partners are out foiling and there is plenty of opportunities for you to sneak away and explore the town and surrounding area and still get plenty of coaching in during the afternoons. There is a £99 price for partners which includes them in the welcome drink and dinner on the first night along with a Tranquility or Localized Sports Massage. We want your partner to feel they too are part of the group over the week, joining us for any of the other land-based activities and evening meals. Planet can also put together additional spa based packages, so just enquire when you book.

Price Includes
6 days coaching at Cabedelo Beach
Twin share accommodation with breakfast for 7 nights at FeelViana
Access to a variety of F-One and Airush foils and surfboards to help with learning new techniques
Unique Progression Live camp t-shirt
Welcome drink and dinner at FeelViana on the first night with the rest of the group
Shared locker for kit storage at FeelViana
Price Excludes
Flights, luggage or kite bag and airport transfers (contact us for an inclusive price)
Single supplement
Room upgrades
Additional meals and drinks
Equipment rental - either take your own or enquire about local rental
Itinerary Details
Progression Live prides itself on the quality of coaching on offer – deep insight and understanding have always been a key part of Progression's DNA. Every student learns differently, some needing just a few pointers throughout the day, where others a more in-depth guided process – the couches will tailor your experience to best suit your needs and ensure you get the most out of the week. Everyone is given a daily objective in the mornings briefing, and then expect you are expected to go off and give this a good go. The coaches will be on the beach and water observing, giving you pointers, and someone is always available for you to come and ask questions.
Progression's aim is help you reach your own potential, pushing hard when you need it but ensuring you have fun, ending every day with a smile on your face and new challenges accomplished, whether they are big or small. And it's not just about what you learn on the camp, you'll leave with a personalised Progression Plan guiding you through the next stages of your foiling progression.
The clinic will involves 6 days of coaching at Cabedelo's main beach with a group of 7-8 kiters. There will be two coaches who will also offer video analysis, BBtalkin headsets for one-on-one session and Progression Live demos.

What if there is no wind? It's unlikely but on light wind days there is still a lot of big kites, light wind practice you can work on along with water relaunch and self-rescue techniques. And if there is truly no wind, other than theory sessions, Viana do Castelo has lots of other activities to keep you entertained – surfing, outstanding mountain biking trails, day trips to Porto for Port tastings to name just a few – not forgetting the hotel spa, yoga classes and gym.

The normal daily structure is:

Breakfast around 9 am
Land coaching at Feel Viana hotel at 11 am
Meet down the beach at 12.30 for a pre-session warm up and set up.
By 1 pm foilers are normally the ones making the rest of the kiting community jealous and you'll have an hour or so of lovely big kite foiling fun. The wind then tends to come in stronger for the afternoon and with loads of space, you'll move about the beach for the best set up.
One coach will be on the water going around between all students and pointing out where you're going right and wrong. The other coach will be on the beach ready to offer support with kites, foils and questions you have as you try new techniques.
The coaches will also film and take photographs throughout the week, which then becomes an essential part of the morning briefing sessions. All of this ensures you'll make heaps of Progression in your week.
Viana do Castelo has a great variety of restaurants and bars and each evening a dinner will be organised for those people who want to join. Though feel free to do your own thing, if you prefer, and the hotel does have a fantastic restaurant for the nights you're too exhausted to go further afield after all those hours on the water.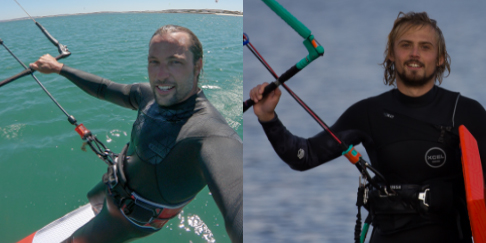 Your Guide:
Danny Morrice and Rob Claisse : Kitefoiling Masters
From competing as a teen to travelling the world with the sport, Danny has over 12 years experience with kitesurfing and has grown up living and breathing it. Now one of the most competent free ride foilers in the UK, Danny is passionate about coaching and helping people gain access into this new area of the sport. The other member of this formidable duo, Rob has always been involved in watersports, a past world champion windsurfer, 17 years experience as a kitesurfer and for last 13 years helping over 200,000 kiters learn and improve with his Progression series of kitesurfing videos, DVDs and apps. Now his own obsession for kite foiling, has led him to find ways to make foiling accessible to the whole kiting community.